LUXURY TRAVEL
6 of the best and most luxurious accommodation in Cape Town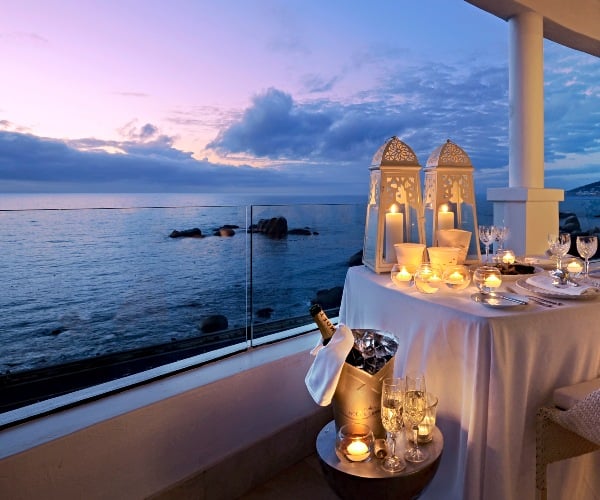 Cape Town, what's not to love about this beautiful city? An enchanting combination of stunning ocean views and a stunning mountain backdrop. With its amazing natural beauty and endless places to explore, you can be a tourist in this city 365 days a year. Cape Town has received numerous awards and accolades over the years – from being one of the World's Best Travel & Leisure Cities in 2018, to 'The World's Favorite City', 'Most Loved City', and 'Best City in Africa' , Best City in the World, 'Best Destination in the World', in publications including Telegraph, National Geographic, Conde Nast Traveler and more. This is a city with something for everyone, from idyllic white sand beaches, to enjoying pampering in luxury five-star hotels, from action-packed days from hiking Table Mountain to paragliding, penguin watching, World Heritage Sites, wine tasting and world-class restaurants. Whether you are looking for relaxation, business or leisure, you will definitely find it all here. With the city's unique blend of natural beauty and cultural attractions, it's easy to see why the city remains at the top of many travelers' lists.
Beautiful, elegant and quirky accommodation options are scattered all over Cape Town, so where does one begin when booking a place to stay? To save you the effort, I will give you the inside scoop on my six favorite places to stay in Cape Town, using the following criteria: great location, great design, great service, understated luxury and unique personality.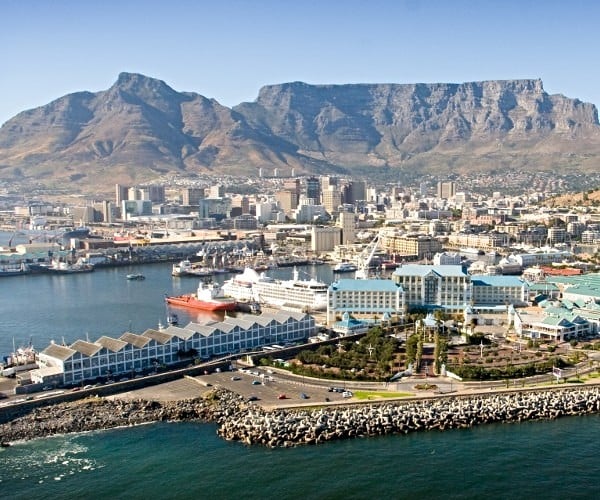 Silo Hotel
Venue: V&A Waterfront
The Silo Hotel, a luxurious blend of art and elegance, architecture and design, is built in the old grain elevator section of a historic silo complex at the V&A Waterfront. The Hermitage rises above the surrounding area, occupying the six floors above the Zeitz Museum of Contemporary African Art (MOCAA). With an area of ​​approximately 2,000 square metres, over 9 floors, and with 100 gallery spaces, MOCAA houses the largest collection of contemporary art in Africa. With its magnificent architecture, and especially its attractive geometric windows, this magical hotel overlooks the famous V&A Waterfront and is surrounded on all sides by the natural wonders of Cape Town. It's not hard to see why it won Best City Hotel in Africa in 2020.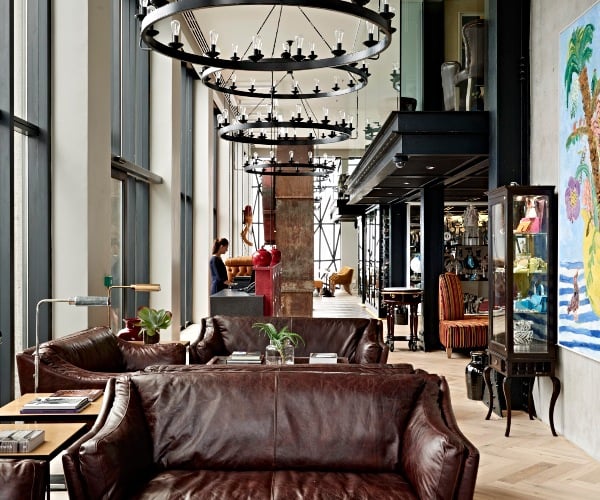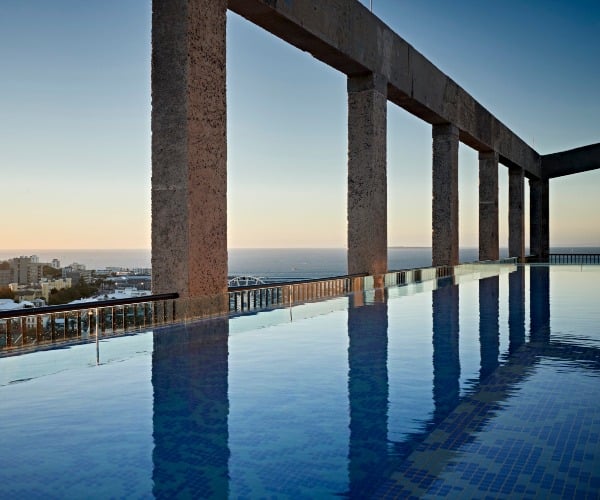 Silo is known for having the wonderful High Tea, the perfect place to pamper a family friend on a special occasion and I've celebrated many friends' birthdays here. The rooftop of the hotel has a swimming pool and is the perfect place for a drink.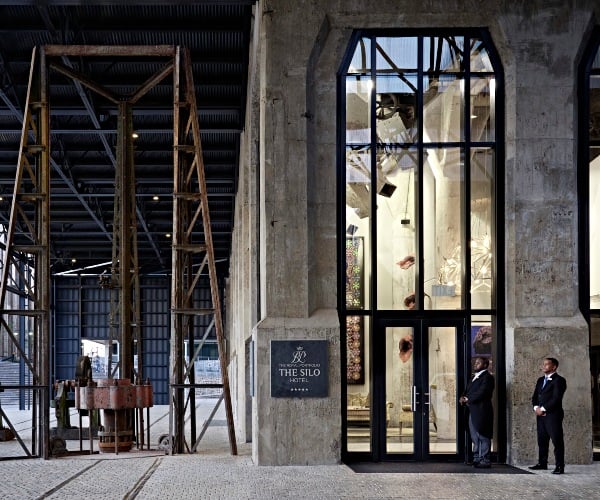 Aside from the sparkling wine on arrival, and delicious eggs for breakfast, one of the hotel's favorite things is actually the bathroom! Free standing bathroom, in a bathroom with expansive views of Table Mountain, Signal Hill, the V&A Waterfront and out of the ocean – spend hours relaxing in a bubble bath, perhaps a glass of champagne in hand, immersed in the views and depending on the time of day, Watch the sunrise or sunset.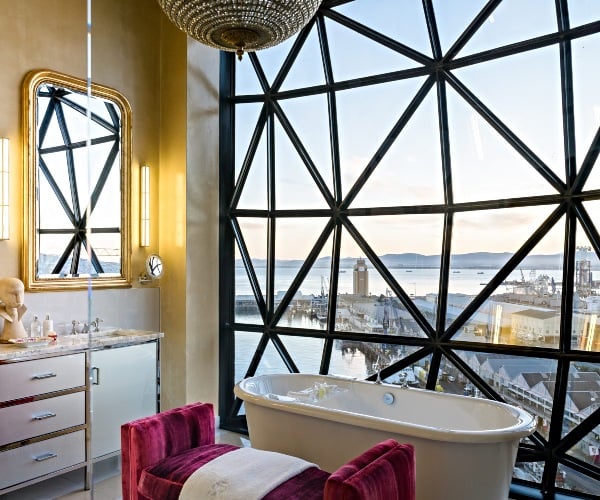 The Cellars Hohenort Hotel
Venue: Constantia
A member of the Small Luxury Hotels of the World, this small but perfectly groomed hotel is just 15 minutes' drive from Cape Town city center and the V&A Waterfront. Cellars-Hohenort features 51 elegant guest rooms and suites, all with stunning views of the Table Mountains and the award-winning 3.5-hectare gardens. Somehow combining modern luxury with historical charm, with a backdrop of gardens and vineyards, this is the perfect place to recharge your batteries after a busy day in Cape Town or sightseeing abroad.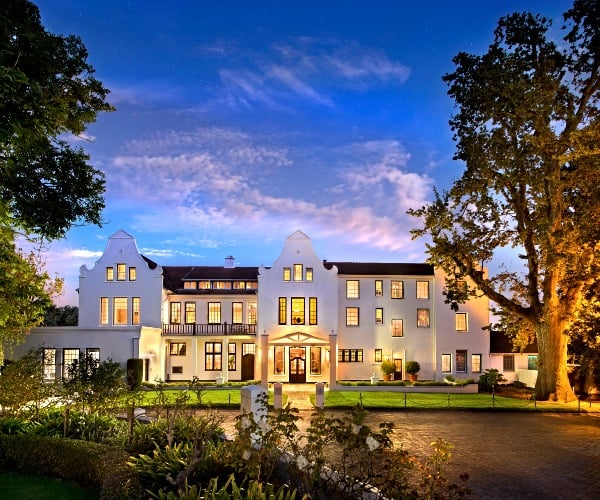 While at home I usually make myself a unique cup of green tea in the afternoon, on holidays there is nothing better than a delicious afternoon tea to really prepare your day, and the Cellars-Hohenort high tea is definitely something not to be missed! On a recent visit I invited her and a friend I haven't seen in 2 years (thanks covid!) and although she was late, very late, actually a full hour late, nothing could dampen my experience with the high tea. A glass of sparkling wine, a bowl of jasmine tea, and some great food. Cake stand with three layers of cakes and sweet temptations, another dish of delicious desserts, we ate and drank to the satisfaction of our hearts. We did our best to do it justice, but we simply couldn't eat it all.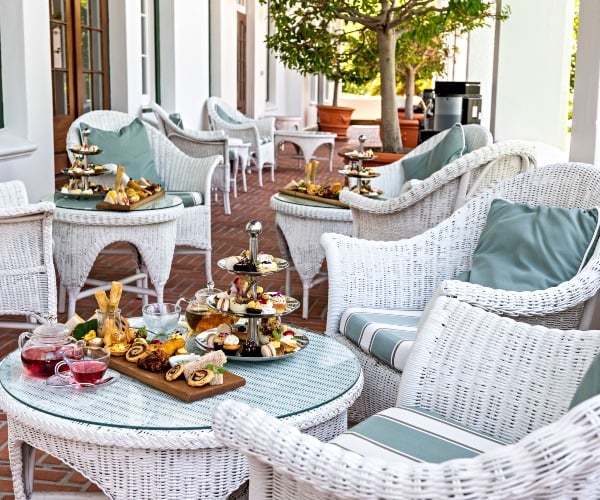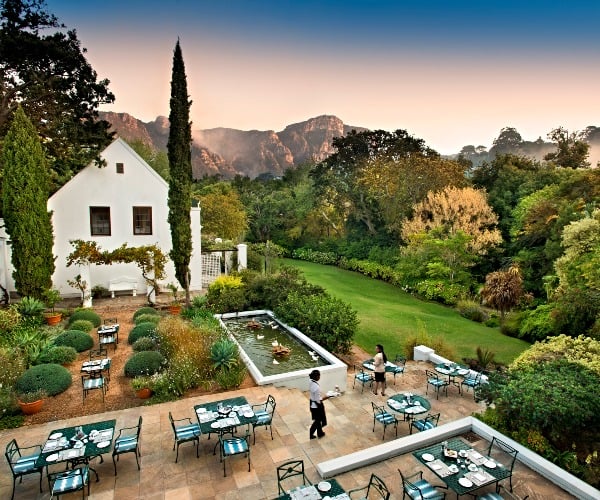 Twelve Apostles Hotel & Spa
Venue: Camping Bay
At the foot of the Twelve Apostles mountain range is a five-star boutique hotel, aptly named The Twelve Apostles Hotel and Spa. It is the location that sets this apart from a lot of other accommodation options in Cape Town. Set beneath the mountains, surrounded by beautiful native vegetation, the hotel almost hovers over the sparkling Atlantic Ocean. This is a seaside getaway, close enough to the city to be a part of it, but removed enough to make it feel surrounded by nature.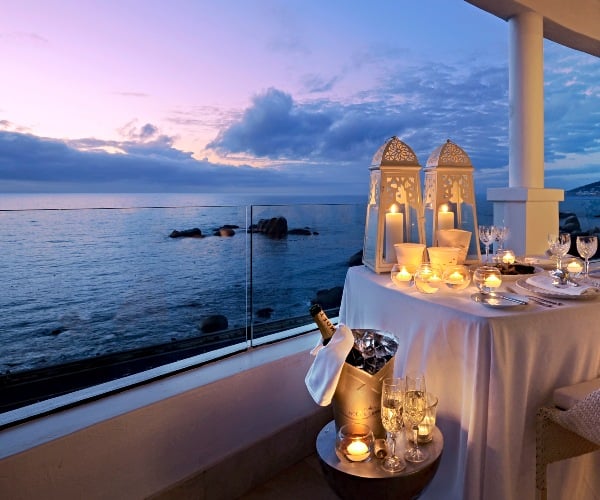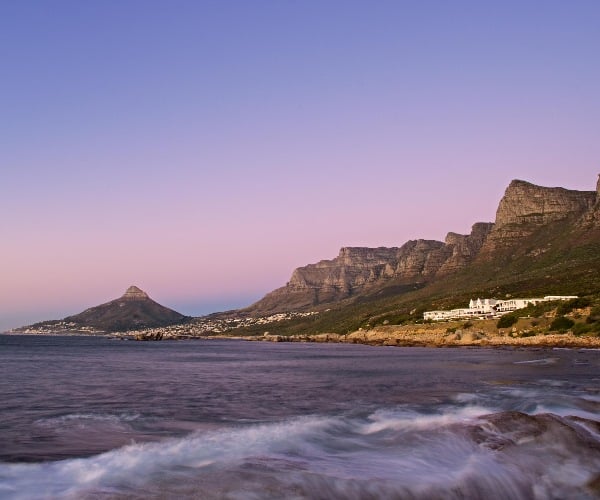 There are four different restaurants and bars to choose from, and the hotel terrace is the best location for everyone in the hotel, with some of the best ocean views from a Cape Town hotel. The terrace is actually my favorite part of the hotel, facing towards the ocean, with uninterrupted stunning views along the coastal shores and out towards the endless sea. The sunset from the balcony is wonderful. A glass of iced South African wine, or handcrafted beer, on hand and the sky a bright hue of orange, red, pink, and yellow. By the way, the hotel has the longest hours of sunshine in Cape Town, ensuring that you will see a wonderful African sunset during your stay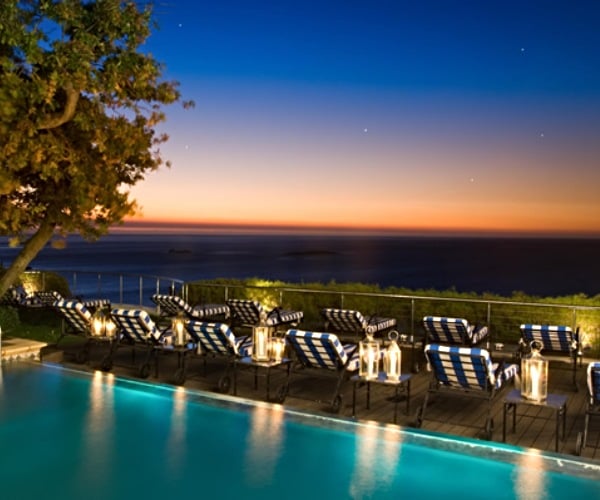 The Winchester Hotel
Where: Sea Point
On the 11 kilometer long Sea Point Promenade, Cape Town's 'platinum mile' with its stunning views, set against a backdrop of mountains and overlooking the Atlantic Ocean, The Winchester is an exclusive privately owned 4-star hotel in Cape Town. The hotel has earned its reputation as one of Cape Town's most iconic hotels, with its authentic Dutch architecture, warm hospitality and professional service and I love the hotel's quiet, understated elegance.
Winchester was recently renovated, and it has a great "new look". The black and white color scheme is crisp, clean and classic, with white-paneled walls, textured ceilings, and stunning geometric floor tiles. The hotel's collection of quirky decor and antiques really highlights the building's history and character. All rooms have either sea or mountain views, and the hotel is close to the V&A Waterfront, beaches and all Cape Town's sights and attractions.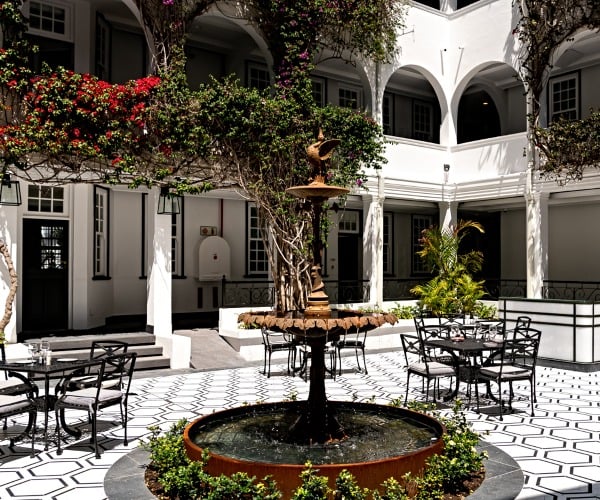 As a side note, for those, like me, who really enjoy a fun breakfast on the holidays, the Winchester's range of options and delicious breakfast flavors is something to really look forward to.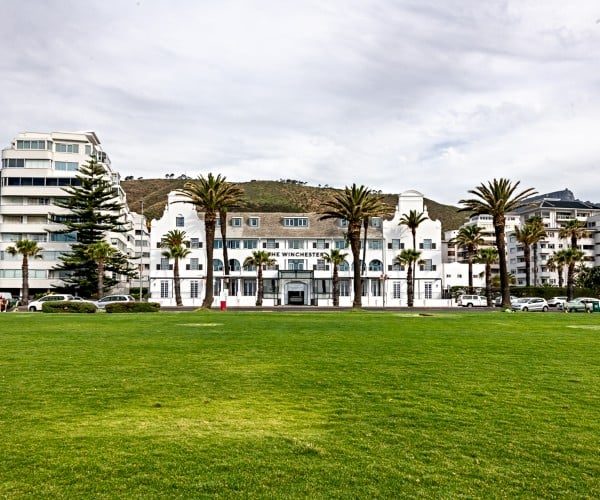 Table Bay Hotel
Venue: V&A Waterfront
One of Cape Town's landmarks, Table Bay is primely located at the tip of the V&A Waterfront, with fantastic views of the working harbor, Table Mountain and the Atlantic Ocean.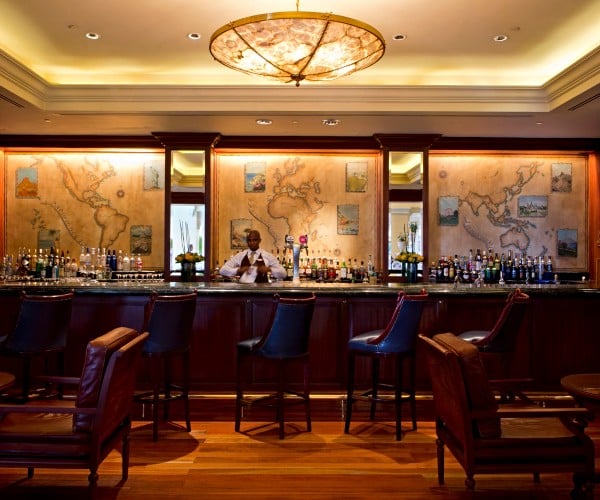 Nelson Mandela opened this hotel in 1997, when he was still President of South Africa. Michael Jackson, Obama, Charlize Theron, Sean Connery and many more famous names spent time at this grand hotel. Although if you are looking for a funky and sophisticated style, this hotel is probably not for you as it is a traditional and luxurious place.
The hotel has everything you would expect, from the swimming pool to the business center and smart restaurants and bars, and even has direct access to the V&A shopping centre, which makes it very convenient and good for first time visitors to Cape Town, or those few nervous adventurous too far away. The V&A Waterfront itself is a place for restaurants, food stalls, hawkers, a gorgeous aquarium, movie theaters, and shopping for everything from clothes to antiques. Boat trips and helicopter tours can be taken from here, and if it's a bit about South African history, you're after a museum about Robben Island and a starting point for boat trips to the island, where Nelson Mandela was imprisoned for years.
pineapple house
Where: Sea Point
Looking for something a little different from a traditional hotel? Are you looking for something elegant and modern? Then check out this quirky, pink-walled pineapple house. This boutique hotel is warm and welcoming with colorful décor and luxurious comfort. It's only a short walk from bars, restaurants, shops and the bustling Sea Point Promenade. (Running, walking or just taking a slow stroll along the promenade is a popular activity with Cape Town locals and tourists alike and I highly recommend joining them.)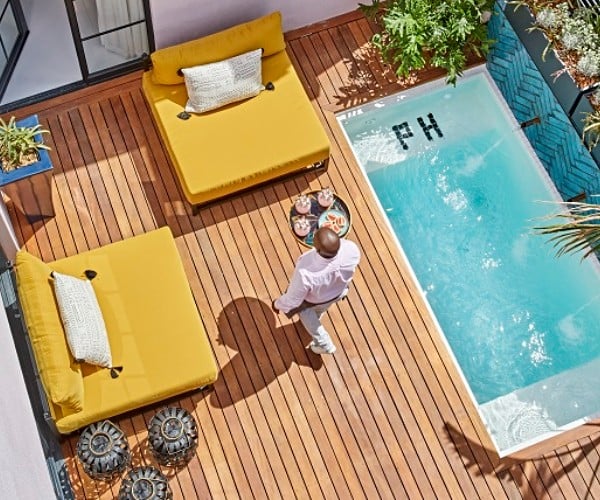 The owners of the hotel have the ethos that pineapple is synonymous with luxury and entertainment all over the world, which is why they named their elegant little hotel after them. There are only 9 rooms here, so you'll never get lost in a crowd of guests, and personalized attention is guaranteed.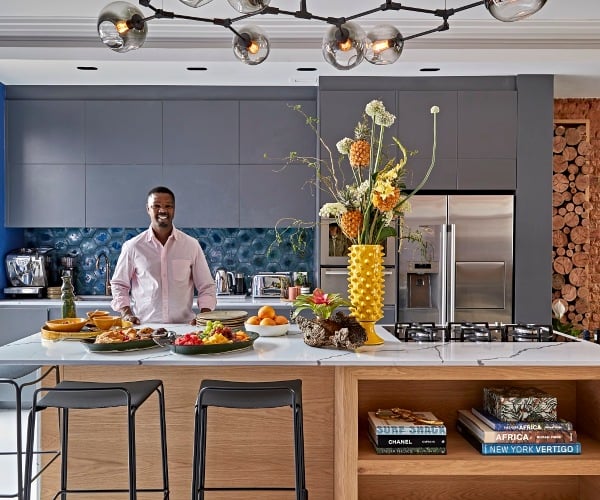 There are few places in the world that offer so many things to do in one elegant accessible package, stunning nature, beautiful beaches, exciting history, great adventure, great food and wine, art, culture and vibrant nightlife, but somehow the Cape Town manages to do just that. This may be one of the coolest, most cosmopolitan and lively cities in the world. No matter what type of traveler you are, die-hard foodie, art gallery connoisseur, beach fanatic or hiking fanatic, or all of the above, there is something in Cape Town for you. And now you know some of the best places to stay when visiting this amazing city.