TRAVEL
Best Thai Food – Traditional Thai Dishes to Eat in Thailand or at Home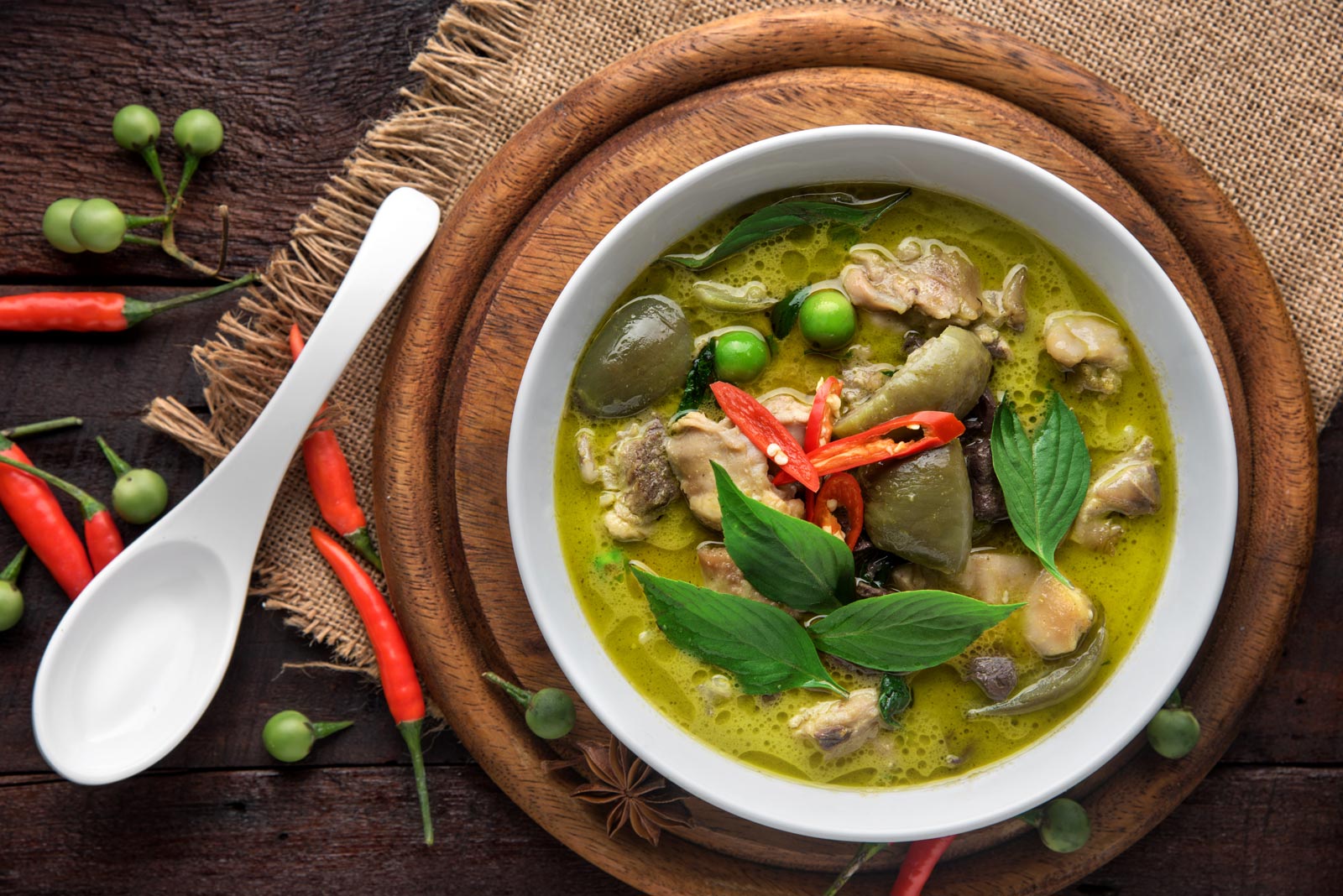 Whether you've been to Thailand or are planning future trips to the Land of Smiles, chances are you've already fallen in love with Thai food. Many people know the staple foods when it comes to traditional Thai dishes like Thai curry and Pad Thai, but Thai cuisine has a lot more to offer other than the usual dishes you may already know. With fresh ingredients like kaffir lime leaves, lemongrass, Thai chili, galangal, and ginger, Thai food is often an explosion of flavors.
How to eat Thai food
When you are in Thailand, you will notice that they eat their rice dishes differently than other Asian countries. Instead of chopsticks, you'll have a fork and spoon on your table. The spoon is your primary eating utensil while you use the fork to process the food on the spoon. We have adopted this tradition at home when we eat our Thai dishes and it is much more efficient.
There will be no knife in place when eating in a Thai restaurant, the food will already be cut to order but if you need to cut just use the side of a spoon. And don't put the fork in your mouth, use the spoon while keeping it in your right hand.
Even noodle dishes like Pad Thai or Pad See Ew are eaten with a fork and spoon. Chopsticks are only used when eating pasta dishes in a bowl.
Now that you have the basics of Thai food etiquette, the next time you go to the Land of Smiles, be sure to order these delicious Thai dishes. If you're not traveling nearby, don't worry, you can make them all at home too! For more Thai recipes, check out Best Thai Fish Dishes: 9 Most Delicious Thai Dishes to Eat in Thailand.
Delicious Thai dishes
1. Thai Green Curry (Ging Kyu Wan)
Thai green chicken curry is my favorite dish in Thailand. Served over jasmine rice, this creamy, delicious meal is one of the most filling and satisfying Thai meals. At home, we make Thai curry with tofu instead of chicken for a vegetarian option. Curry is made from green curry paste and coconut milk. I've never been able to make Thai cooking at home taste quite as delicious as it does in Thailand, but it's still delicious. Get the recipe here.
Curry mixed with chili, Thai basil, fish sauce and added vegetables. There is a variety of vegetables that include peas, eggplant, lemon leaves and baby corn, all served over fresh steamed rice. Make sure to visit Thailand to truly explore the best Thai food. Read More: Thailand Travel Tips – 32 Things to Know Before Going.
2. Cashew chicken (kai med ma muang)
This is Dave's favorite Thai food. When we are out for dinner in Thailand, I usually order curry with jasmine rice (or sticky rice) and order cashew chicken with sticky rice. It's funny how we always come back to our "go to" and it's also very easy to make at home. Start with the fried chicken and mix in the roasted cashews and garlic. When making the vegetarian version we use mushrooms. The key to chicken cashews is cornstarch. When added to dark soy sauce, hoisin sauce, black pepper, and rice vinegar, it thickens into a delicious treat. Get the recipe here.
3. Panang Curry
Panang curry is a little lighter than green curry but just as tasty and popular in southern Thailand. This delicious and sweet Thai curry is made from scratch in Thailand, but at home you can buy Panang curry paste, (However, Panang curry paste is much more difficult to find than green or red curry paste. You can usually find it in Asia grocery store though that)
Orange Curry Filled With Vegetables In A Creamy Coconut Sauce. The delicious sauce is full of flavors from kaffir lime leaves, Thai basil, fish sauce and sugar that is served with fragrant jasmine rice. Usually, Thai curry is made with chicken when visiting Thailand but at home, we make it with tofu. Once I discovered panang curry, this was my favorite Thai dish and I had green curry as my favorite Thai curry. See how to make it here.
4. Bad Thai
Pad Thai is a staple dish in Thailand and one of the most popular Thai foods. You can order Pad Thai from street vendors, corner cafes, restaurants, and pretty much any street corner shop. Pad Thai is the national dish of Thailand, so it is obvious that tourists have lunch on Kho San Road. This fried noodle dish is cheap and delicious, mixed with peanut sauce, with chicken or shrimp. Learn how to make Pad Thai at home with this easy-to-follow recipe.
5. Pad See Ew (Thai fried noodles)
Pad See Eiw is a thick noodle dish in Thailand. These noodles are fried in soy sauce to create a thick gravy. If you enjoy Pad Thai, this is a good option for the next Thai dish to try while in Thailand. Besides pasta, it is also served with chicken, pork or beef, and the vegetable can be cabbage or broccoli.
This is a common food in Thailand and you will find many locals gathering around the tables and eating this delicious meal. Pad See Ew consists of broad rice noodles, Gai Lan (Chinese cauliflower). Mix fried chicken with dark soy sauce, white vinegar, oyster sauce, and sugar. For the full recipe visit here.
6. Tom Yum Soup (Sour and Spicy Soup)
You'll see tom yum soup on almost every menu in Thailand. Tom Kha Gai and Tom Yum Goong are two soups that you often see on menus. Tom Kha Gai is similar to Tom Yum soup (I thought it was Tom Yum Soup) but Tom Kha Gai is the creamy version made with coconut milk and lemongrass. It can be served as soup or over fresh steamed rice.
The main flavor you will notice is lemongrass but there are plenty of other spices to make this delicious dish. Tom Kha Gai also includes ginger, chili, lime juice, coriander and the usual Thai food of fish sauce. It usually consists of chicken and mushrooms. Make Tom Kha Jai ​​at home.
Tom Yum Goong is a fish broth soup made with shrimp, Thai pepper, fish sauce, and lemon juice. Both of these soups can be very spicy. Goong means shrimp in Thai and its base is made with shrimp broth and shrimp paste making this a purer version of Tom Yum soups. Get Tom Yum Goong's recipe here.
7. Guay Teow (noodle soup)
Oh, how I love good noodle soup in Thailand. Guay Teow is made with pork, beef or fish broth with rice noodles. When you order a bowl of noodle soup, it comes with seasonings you can add to taste including fish sauce, dried chilies, sugar, galangal (or ginger), and lemon juice. This can be eaten any time of the day and I have found that I have it regularly for breakfast when visiting the islands. Get the full recipe here.
8. Tai Chicken Satay
Street food is a big part of eating out in Thailand. You will find that some of the Thai food on your trip will be eaten by a street vendor. Grilled chicken satay is a popular dish for that. Chicken satay is a simple dish of chicken that is sliced ​​and grilled on skewers. This is one of the most popular Thai street food. The chicken is first marinated in spices including lemongrass, cayenne pepper, and garlic. Served with spicy Thai peanut sauce. When you make it at home, you can serve it alongside jasmine rice for a complete meal.
Check out more Asian foods
9. Larb Gai
I love making lettuce wraps at home when there is company. Like many of the Thai foods we've listed, this is a refreshing treat that's also easy to make. The trick to making delicious lettuce wraps is the dressing. It consists of hoisin sauce, soy sauce, sriracha, rice wine vinegar and ginger that is then stir-fried with chicken. Hmmm, doesn't this look delicious?
You can then stuff the lettuce wraps with anything you choose. Carrots, red cabbage, cucumber slices and rice noodles. Everything is put on a plate and people can make their own by filling the lettuce with whatever they like. I like to have hoisin and soy sauce on the side for dipping.
10. Khao Pad (Fried Rice)
Khao Pad is a very simple dish that you will see on many Thai menus. Khao Pad translates to fried rice, and fried rice is a staple dish in Thailand. If you want to order something easy, just order fried rice with whatever you want (chicken, beef, tofu or shrimp.
In Thailand, khwapad is usually combined with eggs and onions. You may see shrimp fried rice on menus as it is popular with tourists but you can simply order whatever you like on top. The fried rice is usually accompanied by fresh lemon on the side. Make sure to squeeze it and use the chili and fish sauce that's usually sitting at a table in Thai restaurants.
11. Green Papaya Salad (Som Tam)
Well, there is nothing more refreshing than a green papaya salad. The spicy green papaya salad known as Som Tam is one of the most popular Thai dishes that originated in northern Thailand. Chop unripe green papaya and mix with spices, fish sauce, lemon juice, and cayenne pepper. It is mixed with other vegetables including tomatoes, cucumbers and carrots plus you can add dried shrimp and peanuts and don't forget the long beans. When looking for an appetizer in Thailand, green papaya salad is a great start.
12. Green Mango Salad
When visiting Thailand, I like to buy fresh green mango slices from the street vendors and the people on the beach. Green mango is unripe mango and I like it more than fully ripe mango. Green mango salads consist of mixing shredded mango with shredded coconut, bean sprouts, and fresh herbs like coriander and basil. It can be mixed with chicken, shrimp or a vegetarian option of tofu. The sauce is a delicious refreshing treat of lemon juice, soy sauce, sugar, and chili flakes.
13. Mango Sticky Rice (Kao Niew Ma Muang)
When looking for a Thai dessert, mango sticky rice is the perfect choice. Sticky rice is glutinous rice made with coconut milk that will remind you of rice pudding. Serve sweet rice alongside fresh mango slices and when dipped and mixed together it is delicious.
14. Yam Bla Duc Pho (Fried Catfish and Green Mango Salad)
Catfish is full of flavor and is a delicious treat in a Thai salad. Smoked over low heat, until crust is golden and crunchy, then served over fresh mango salad. It is often served as an aperitif or as a snack at the bar. Find out how to prepare a complete Thai meal here.
15. Lab
We had our first lap in Laos but soon found out that it is one of the popular Thai dishes as well. Lap is a spicy meat salad that originated in northern Thailand and is usually eaten with sticky rice. All kinds of traditional Thai food can be found in this salad including lemon juice, fish sauce, galangal, Thai pepper and coriander, but it's the mint leaves that make it so refreshing. Check out the recipe here.
Why do we love Thai food?
As you can see there is no shortage of Thai food. There are many different food recipes from Thai soup to grilled meat dishes and grilled fish tasting. Every time we come back to Thailand we discover a new food. No wonder there are so many Thai restaurants around the world.
What we love about Thai food is the family atmosphere. When ordering Thai dishes, they are meant to be shared. When dining in Thailand as a tourist, meals are often served separately, but if you see how the locals eat, you will notice that rice is served separately and main dishes are placed in the center of the table for everyone to share. Food never arrives at the same time, so we just start sharing it and tasting it together as it comes.
When planning your next trip to Thailand or when ordering from one of your favorite Thai restaurants, make sure to steer clear of the usual Thai cuisine and try some of the lesser known Thai dishes, you may find your next favorite meal.
Plan your trip to Thailand with these resources: