LUXURY TRAVEL
Escape the crowds on board Northern Sun in Thailand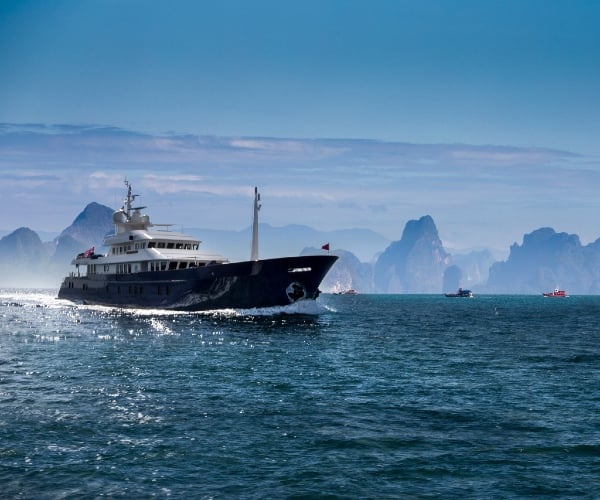 Thailand welcomes visitors to explore some exceptional nautical destinations, reopening its doors for travel from November 1, 2021. This year-round yachting retreat offers a great climate and long sunshine, perfect for experiencing an idyllic getaway on the water.
An exotic taste awaits you in Thailand as Phuket, dubbed the 'Pearl of Thailand', leads the way towards opening up to international travelers. Filled with stunning national parks featuring tumbling waterfalls, towering karst formations, and mystical underground caves, clear waters and sheltered bays prove a popular yachting site. Having received impressive accolades from previous charters, 51m Northern Sun, run by Captain John and his highly professional crew, are very knowledgeable about all aspects of sailing in this region. With countless snorkeling and diving sites, you should not miss an underwater adventure to witness the thriving marine life. When not exploring, the shopping and nightlife on the beach is great, with plenty of fun and entertainment opportunities.
The Phuket Yachting Haven Marina is an ideal starting point for a charter itinerary on the Northern Sun, where the crew will have a cold drink and a warm welcome ready. Once settled, the yacht will give way to dock at the stunning Koh Phanak in Phang Nga Bay. This is a large Hong Kong that can be used as a base for exploring a range of interesting sites nearby – such as James Bond Island, the Islamic Village and the petroglyphs. It also provides an ideal place to visit the nearby caves and bays in a group. Why not use the Northern Sun's 10 kayaks, or for those with a natural balance, take one of the existing paddleboards to explore more.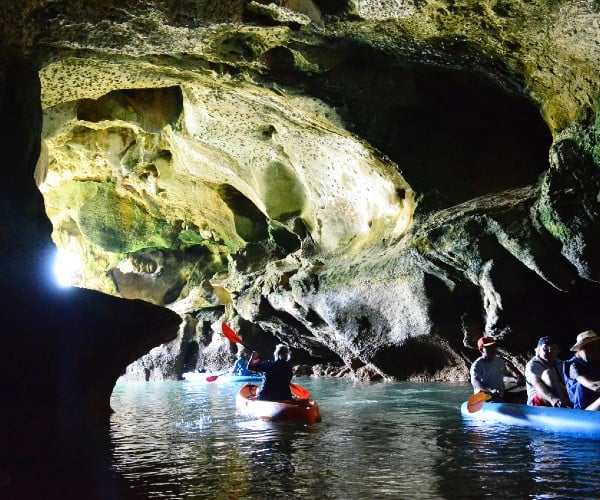 Take a leisurely cruise to the Koh Hong archipelago of about a dozen small islands off the coast of Krabi to discover more fascinating caves. Enjoy some truly scenic views, head ashore gracefully to soft pristine beaches or lounge on the sun deck and enjoy the gorgeous scenery with a cocktail in hand. Part of the Than Bok Khorani National Park, picture-perfect Koh Hong is known for its gorgeous rock formations, vibrant coral reefs, and a picturesque natural lagoon surrounded by gorgeous shades of limestone. Only open to visitors during the day, it is a great place to indulge in recreational activities such as diving, swimming, hiking and picnicking. If Six Senses Spa is open on Koh Yao Noi, it is highly recommended to try some of the excellent spa treatments available.
With good weather and not much swell from the west, a smooth nighttime trail will take the Northern Sun to Roc Nok, which is protected as part of Mu Ko Lanta National Park. The Twin Rock Islands are some of the most beautiful islands in the Andaman Sea, with the added bonus of both gorgeous marinas and stunning beaches. Time here provides the perfect opportunity to enjoy the yachting's collection of watersports equipment, and take the opportunity to snorkel in the crystal clear waters, while there is also plenty to do for activity seekers, such as hiking and kayaking.
The largest island in the Tarutao National Marine Park and one of the most pristine islands in the region, Ko Tarutao offers a truly remote experience where privacy and seclusion can be found. Tarutao means "old, mysterious and primitive" and fully lives up to this translation. The rugged cliffs, former prison sites, and ancient bushes in the mountains offer a primal sense of awe when exploring. Ao Son is an exciting beach with clear blue waters and gorgeous sunsets, plus it's often deserted. There's also a chance for activity seekers to enjoy the challenging mountain biking trail through a lush mainland forest, as well as a trip to Le Dou Waterfall and hiking up the 400-meter Top Bob slope.
Tarutau is part of the uninhabited and pristine national park; Perfect place for kayaking through green mangrove forests to Ao Rusi crocodile cave – don't forget the head torches! When exploring the island, visitors are likely to encounter an impressive variety of wildlife along the many winding paths, such as pigs, lizards, otters, and even flying lemurs. Ao Ta Loo Woo Pier is located in the east of the island, extending into the sea on a historic road, which leads to a number of prison buildings with interesting facts about the dark history of this beautiful island. Be fascinated by the strange tales of convicts and guards who team up during World War II to become pirates. It's an excellent location to enjoy the expanses of pristine sand, crystalline waters, jungle walkways, and welcoming beachfront bars serving delicious Thai dishes.
Start early to travel to the Putang Islands, located in Tarutao National Park, where the Northern Sun can dock off Koh Lipe, dotted with gorgeous beaches. Originally inhabited only by sea gypsies, lush jungle extends to the water's edge and this idyllic paradise features more dramatic rock formations and inland waterfalls. The four main group of Putang islands are very beautiful and little explored by tourists, they are mountainous, covered with dense forest, centered in a circular pattern, surrounded by many small islands and rocky outcrops. On the southwest side, the waters are especially clear, offering snorkeling and snorkeling on colorful coral reefs. Koh Tanga and Koh Chuku to the east are rarely visited, but they are very beautiful and offer a sheltered overnight mooring. The entire area is ideal for all water activities, and offers a good opportunity for some fun use of the Northern Sun inflatable slide.
Take the opportunity to explore Langkawi, an archipelago of 99 islands surrounded by sparkling turquoise sea waters and pristine beaches, while the interior is a mixture of rice fields and bush-strewn hills. Kilim Karst Geoforest Park is home to a variety of mangrove swamps, diverse wildlife, and a floating fish farm, along with limestone caves and ancient rock formations. Island hop to nearby Pulau Dayang Bunting and Pulau Beras Basah to enjoy swimming, kayaking and snorkeling from the Northern Sun, while an eagle feeding session on Singa Besar Island is a great show. In bustling Pantai Cenang, the setting for dinner on the beach is poetic, with great views from the beachfront restaurants and bars. Enjoy a refreshing morning stroll to the seven connected pools and waterfalls at Telaga Tujuh Waterfalls on Mount Mat Cincang. The views from here on Burao Bay and Pantai Kok are spectacular, and while walking you are likely to spot many macaques and hornbeams. The 125-meter-high curving bridge of the magnificent Langkawi Sky Bridge that can be reached by cable car, overlooking Gunung Mat Sinkang, Telaga Tugu Waterfalls and the surrounding islets, is not to be missed, and the views are incredible! Shopping enthusiasts will enjoy a tour of the Oriental Village at the base of the cable car station with duty-free goods, souvenirs and local handicrafts on display.
On the return trip, Northern Sun will stop at Coral Island located just 3 kilometers from the coast of Phuket. Long Beach and Banana Beach are highlights here, with snorkeling and snorkeling recommended among the coral formations. Teeming with local wildlife, dolphins, whale sharks and lion fish frequent the waters along with exotic frog fish. Assyria look for tree-climbing cloudy watcher lizards that can grow several feet tall and have been known to love taking pictures!
The Land of Smiles is a tempting choice, attracting visitors with visions of white sandy beaches and warm, clear waters. Perfectly explored by chartering yachts to reveal some hidden gems, Thailand offers a chance to enjoy a relaxing holiday or activity-filled break aboard the Northern Sun. An ideal platform to savor every aspect of Thailand from the waters, relax and enjoy amazing standards of comfort, luxury and exemplary service in style.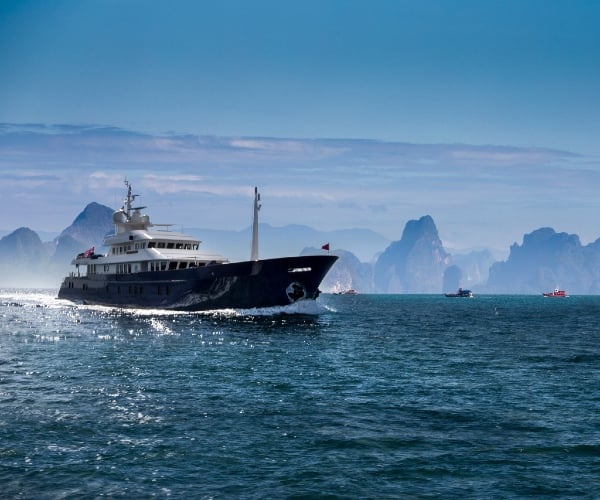 Nicholas Dean is the managing partner of Ocean Independence. Ocean Independence is a global leader in the luxury yachting industry, providing a customized experience across yacht charter, sales and management.
If you would like to be a guest blogger on luxury travel blog to raise your profile, please contact us.