UK TRAVEL
What's this Christmas in Cornwall – Guide 2021
Sharing means caring!
Cornwall is not just a summer destination. It's also a great place for adventure in the winter months. We can especially recommend spending Christmas in Cornwall. This is my guide to what's going on in Cornwall this Christmas.
Please note that events are subject to change in 2021. I will update this post regularly, but always check with individual attractions for the latest visitor information.
You may also like to read The Best Days of Christmas in Devon, Festive Events Across the Country, Illumination and Paths of Light, and My Guide to UK Christmas Markets in 2021.
Learn about an event or experience not listed? keep in touch! I add listings all the time based on information I discover online and receive.
Contents – Go to what you want to know
Best Places To Visit In Cornwall This Christmas
From Santa's Caves to Illuminations and Markets, here's where to keep an eye out for the festive events taking place in Cornwall in 2021.
Christmas events in Cornwall 2021
Here's where to head for a festive spirit and maybe even a cornish cider thinker!
Tarba garden of light
This Christmas season, join a magical lantern procession on an intimate journey through Taraba for lively beach festivities.
garden experience at night; Wander the subtropical paths through the warm glow of your handcrafted lantern and watch the enchanting flames and their reflections on the beach.
There will be tunnels of twinkling lights to find lantern installations created by a local artist, including lantern specialist Tony Crosby (Truro City of Lights) and Laura Francis Martin (Lighting Festival).
You can also make your own lanterns to guide your family to the beach. Advance reservations for these workshops are essential.
Trebah Garden of Light, Falmouth, selected dates 2-11 December 2021.
Christmas in the Eden Project
Find plenty of Christmas cheer at the Eden Project this winter with illuminations at The Med Biome, an 18-piece Christmas Band at Citrus Grove (selected dates), an ice rink and Santa's Grotto.
Santa and Snowboard tickets are booked separately in your admission ticket.
There is also a Cornwall Christmas Fair in Aden on November 10-11.
Christmas at the Eden Project, St Austell, The events take place on the dates specified until February 2022.
Meet Santa in Lost Gardens of Heligan
This Christmas Heligan will be hosting a very special guest – Santa himself!
He tells us that he can't wait to see you again as you visit him by the famous fireplace and share your stories, hopes and wishes.
Explore the gardens on the way to your visit by the fireplace. Don't forget to stop at The Melon Yard on your way to writing your letter.
You and your family will then be welcomed into the exclusive ceremonial reserve yard within the gardens, where you will begin to prepare for your private visit. There will be music, Christmas crackers, and festive crafts before you even have a chance to meet Santa.
Each child will receive a small traditional gift to remember their visit.
Tickets must be booked in advance.
Lost Gardens of Heligan, St Austell, selected dates December 11-24, 2021. Book online.
Meet Santa at the Newquay Zoo
Most of the animals at Newquay Zoo are on the Nice list this year, which means Santa Claus will take some time out of his busy Christmas schedule to reside in his magical grotto here.
Kids can meet Santa and get a gift of £9.50 per child. This is in addition to the regular admission prices and advance reservations are required.
Not only are there more dates to meet Santa than ever, but you can also make reindeer food in the Elf Workshop to sprinkle on your garden before bedtime. This activity is free and anyone who visits Newquay Zoo can enjoy it.
Newquay Zoo, Newquay, December 18-24, 2021.
Christmas at Camel Creek
Christmas fun returns to Camel Creek in 2021. Meet Father Christmas in his grotto, join Santa's Elves for a festive arts and crafts workshop, and enjoy delicious wine and hot chocolate on a stroll through the enchanted Christmas tree forest.
Families can also stop by the Chocolate Factory for crafts, winter sweets, or Snack Shack filled with snow cones, hot chocolate, and festive-flavored coffee.
Christmas adds extra sparkle to the little ones (and adults too!) and they'll be thrilled to see Swampy and Dina Land transform into the land of Christmas.
This is all on top of the usual park fun and excitement, including the indoor play area at Creeky's Playhouse, Carousel, and Wave Rider. Animal lovers have the opportunity to explore The Stables, Reptile House, and Meerkat Enclosure.
Camel Creek, Wadebridge, selected dates from November 27 to December 23, 2021. Special admission rates apply.
Christmas at Dairyland Farm Park
Come meet Santa and his elves and sing reindeer at Dairyland Farm Park this Christmas.
Walk around the park, see the Christmas lights, and visit the indoor and outdoor play areas.
For an extra treat, book tickets in advance for a chance to have breakfast with Santa and visit his cave.
Dairyland Farm Park, Newquay, select dates December 4 – 24, 2021. Book online.
Christmas in Paradise Park
There will be a penguin test to complete during your visit to the park in December and January.
Paradise Park, from TBC dates in 2021.
Christmas at National Trust venues in Cornwall
Here's what's going on at National Trust properties in Cornwall this Christmas:
Christmas in Koteli
See the famous Cotehele Christmas wreath that adorns the hall of this Tudor home. The wreath has been created using fresh foliage and flowers for the past 60 years.
This year, you can also see Cotehele Mill decorated for a family Christmas and head out for a frosty walk around the property.
Please note that only the hall in the house will open.
Cotehele, near Saltash, from 20 November to 31 December except for 25 and 26 December 2021.
Christmas in Trelissick
On December weekends, Father Christmas will return to tell his festive story of the 12 Days of Christmas, and the café will serve up spiced cider, wine, and other seasonal foods.
Santa Claus visits are made in groups, not individually. Advance reservation is necessary due to limited availability.
You can also follow the Percy the Park Keeper's winter trail in the parks every day, except on December 25 and 26, 2021.
Know that the house is closed this Christmas.
Read more about our recent visit to Trelissick.
Trelissick, near Truro, Santa on weekends December 4-19, 2021.
Christmas in Terres
Explore the Elizabethan manor house that will be decorated for Christmas and follow the winter path of Percy the Park Keeper through the gardens.
Trerice, near Newquay, is open on weekends from November 1 to December 5 and then daily between December 11 and 23, 2021.
Santa Fe Cornwall Trains
Want to ride the Christmas train? Here's where to find it in Cornwall in 2021:
Santa Specials at the Bodmin and Winford Railway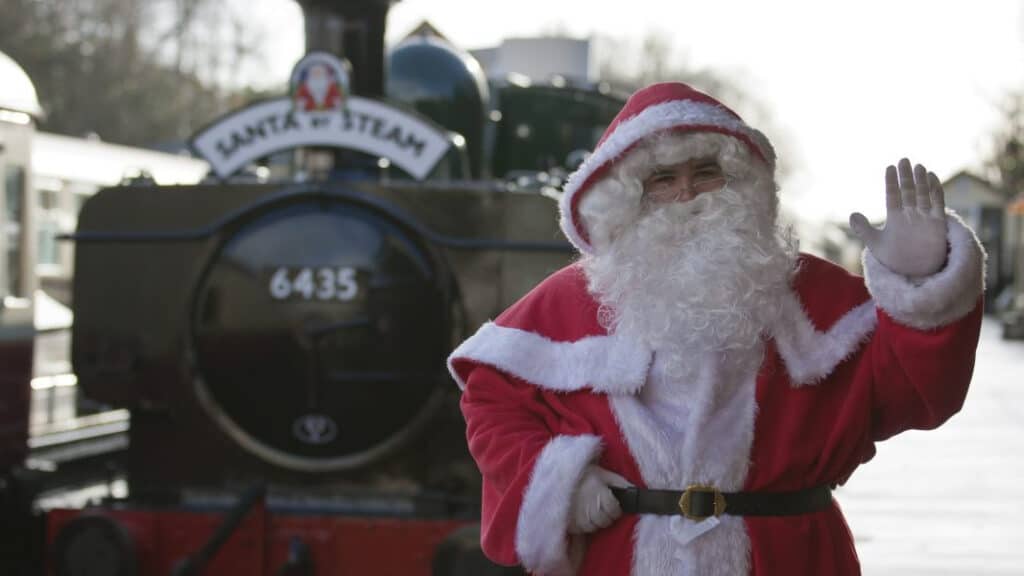 Take a private trip with the Railroad Elves to visit Santa's Grotto.
Arrive at Bodmin Public Station for a chance to see Santa Fe with his private Victorian trainer and have your picture taken with him.
Each child will also receive a gift.
Take a look at our visit to the Bodmin & Wenford Railway.
Bodmin and Winford Railroad, Bodmin, select dates 4–24 December 2021.
Christmas in Lapa Valley – run out
Meet Santa in his grotto and take a festive steam train ride through the Lapa Valley at this fun Christmas event in 2021.
There will also be a gift for each child, music and balloon modeling. Book early to avoid disappointment.
Lapa Valley, Newquay, dates set December 4 – 24 in 2021.
Caves of Santa in Cornwall 2021
Here's where to meet Santa in Cornwall this Christmas:
Cannon Downs Garden Center Santa's Grotto 2021
Meet Santa at the center of his garden grotto every weekend in preparation for Christmas.
Tickets cost £7.50 per child. Check with the garden center for more information.
Canon Downs Garden Centre, between Truro and Falmouth, is open from November 28 in 2021.
Ice skating in Cornwall
Here's where to find ice rinks in Cornwall this Christmas:
Ice skating at Eden Project in 2021
The annual Project Eden ice rink returns in 2021.
Book your session in advance as well as your entry ticket to The Eden Project. Family skating sessions are held every morning with skates.
Ice skating at the Eden Project, St Austell, October 2021 to February 2022.
Read about what you can expect when visiting The Eden Project.
Christmas markets in Cornwall
Want to get a unique Christmas gift or sample some delicious apple juice? Here's where to find the Christmas markets in Cornwall this year:
Fowey Christmas Market
Visit this seaside town on the Corniche for a West Country Christmas experience with 200 stalls filled with locally produced food and drinks, and festive gifts.
Fowey Christmas Market is one of the top things to do in Cornwall this Christmas.
Over the course of three days, he controlled the city with merchants scattered across Fowey Town Quay, Albert Quay, Webb Street, and Town Hall.
Fowey Christmas Market, Fowey, Cornwall, November 26-28, 2021.
Heartlands Christmas market
Visit the festive market in the Heartlands for locally made handicrafts, seasonal cuisine, and entertainment. Entry is free and no reservations required.
Santa is also expected to visit. Fans dressed in red must be booked in advance. Tickets cost £7 and can be booked on the Heartlands website.
Hartlands Cornwall Christmas Market, Redruth, 4 and 5 December 2021.
Enchanted Christmas Market
Book an admission ticket to The Enchanted Christmas Market at the Royal Cornwall Events Center in Wadebridge.
There will be two halls full of merchants offering late night shopping away from the community. While you are there, you can also grab something festive to eat in the food court and enjoy the seasonal entertainment.
The Enchanted Christmas Market, Wadebridge, dates set December 9-19, 2021.
Christmas Markets at Hilly Corniche Cider Ranch
Come see Healey's Cornish Cyder Farm stalls displaying delicious local produce along with Cornish arts and crafts every weekend in the run-up to Christmas.
Each Healeys Annual Membership ticket upgrades for free, which gives you unlimited access to the farm for an entire year, including during seasonal events we may host.
Hilly Corniche Cider RanchNear Newquay, every weekend from November 13 to December 19, 2021.
Discover more days of hiking in England, Wales, Scotland and Northern Ireland in my large collection of 101 family attractions in the UK.
More things to do in Cornwall
If you are looking for more places to visit in Cornwall, we can recommend days out when it rains in Cornwall and dog-friendly days throughout Cornwall.
Or why not read our guide to family holidays in Cornwall.
If you know something not already listed has happened, let me know. I add listings all the time based on information I discover online and receive.
Why not comment on this post on what's on this Christmas in Cornwall later?
Sharing means caring!